DAY TO DUSK PHOTO EDITING
DAY TO DUSK
In addition to improving the overall look of your image with our 7 step image enhancement process, the editors at Headphoto.net will also use advanced editing techniques to replace your daytime sky with beautiful dusk or sunset colours, turn on lighting, and use advanced white balancing techniques to give the overall image a consistent and realistic look, making your listing stand out from the rest
GET A HERO SHOT
Get our team take your photo of a home's exterior from drab to fab with the click of a few buttons and let your listing stand out with a beautiful dusk hero shot.
ATTRACT BUYERS
Homes presented at dusk are beautiful, romantic and eye-catching. Attract more buyers with a stunning photo of your listing at dusk and show just how beautiful the home can be.
SAVE THE HASSLE OF CAPTURING THE PERFECT SUNSET
Booking a photographer to capture the exact moment the setting sun looks stunning can be difficult, especially if that day's sunset is unremarkable. Take the hassle out of capturing the photo and let us edit it for you.
STAND OUT FROM THE COMPETITION
Turning a photo from day to dusk will not only enhance your listing but will help it stand out from the crowd. An eye-catching sunset will draw everyone's attention.
OUR $5.5 : 7 STEP DAY TO DUSK PROCESS
Brightness & Contrast Adjustment.01
Outdoor Dusk Sky Replacement.02
Turn on Lighting.03
Vertical & Horizontal Straightening.04
05.Remove Minor Blemishes
06.Adding Fire to Fireplaces
07.HDR Processing
BRIGHTNESS & CONTRAST ADJUSTMENT
Draw attention to your photos with a top-quality professional look thanks to the perfect adjustment of brightness and contrast in your image. When moving a photo from day to dusk, getting to brightness and contrast just right can really set the mood.
TURN ON LIGHTING

INTERIOR/EXTERIOR LIGHTING & POOL/GARDEN LIGHTS
Whether it is interior or exterior lighting, pool or garden lights, turning on the lighting in a property photo will create a warm and welcoming feeling.
VERTICAL & HORIZONTAL STRAIGHTENING
Incorrect vertical lines can make an image look distorted and as if the walls are leaning backwards, while an off-kilter horizon can ruin a photo. Our team of experts can rectify these issues.
REMOVE MINOR BLEMISHES
Minor blemishes such as dust spots or a scratched lens can really impact a photo. Removing these imperfections brings your photo one step closer to a top-quality professional standard.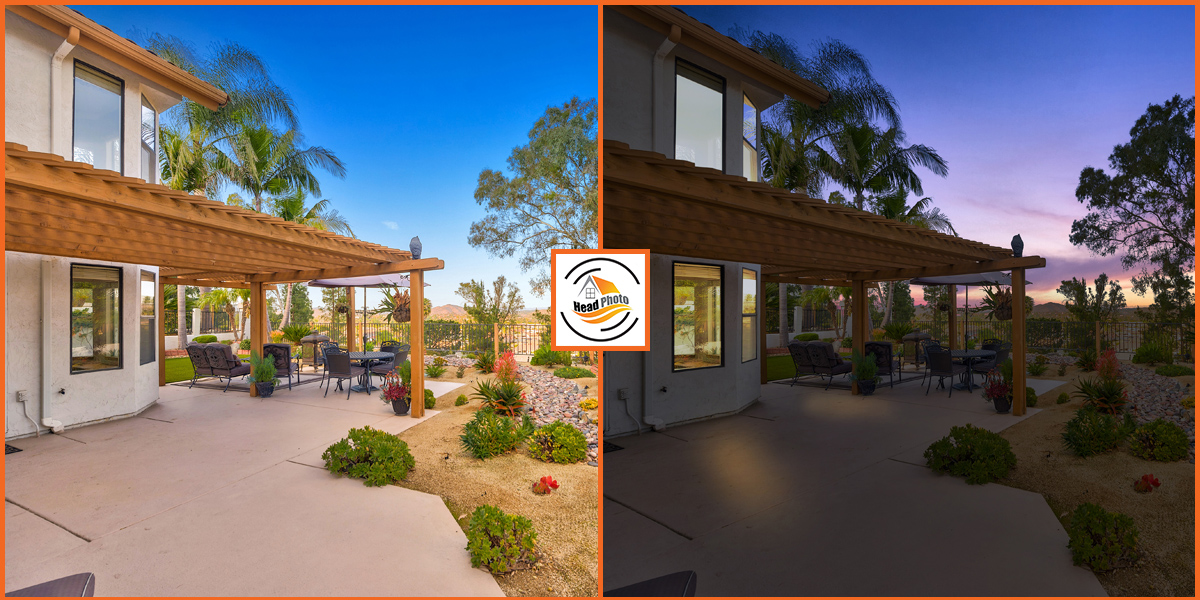 ADDING FIRE TO FIREPLACES
Warm and welcoming homes attract buyers. Adding a fire to a fireplace can help add warmth to a living space and show buyers just how comfortable the home can be.
HDR PROCESSING
HDR processing will add a more dramatic range to your photo to create an image more like what your eyes see than what the camera captures. This technique will add a real-life quality to your real estate photography. For experienced photographers only.
Perfect for real estate photo editing so you can present your listing with top-notch, retouched professional-looking photos.
Our photo retouching service will take your exterior property photo from drab to fab by adding a beautiful dusk sky.
Clearly showcase your listing to potential buyers with an online floorplan available in a range of 2D and 3D options.
VIRTUAL RENOVATIONS
Visualise what a design will look like before undertaking expensive renovations.
VIRTUAL FURNITURE
Our team can add furniture to real estate photography to show potential buyers just how versatile the space is.
BACKGROUND REMOVAL
Remove unsightly or boring backgrounds from your photos to leave nothing but your product. This option is suitable for simple objects on a clean and/or plain background.
WEBSITE DESIGNER
Have a job not listed in our range of services? Get in touch and we can quote your custom job for you. The team at BoxBrownie.com can do anything.
Our team of expert editors can add realistic furniture to 360 images to bring to life a previously bare listing.
Enhance your headshots for use on business cards, websites, display boards and social media profiles.
UPLOAD
Upload your photos at google driver , dropbox….and share link
WE EDIT
Our team of professional editors will perform over 15 editing tasks on your images within 12 -> 24 hours. 100% satisfaction guaranteed.
QUALITY ASSURANCE
Each image is viewed & checked by our quality control team.
READY!
Share link the professionally edited images as soon as they are complete